WP6 Methodological Workshop
23 November 2021 @ 1:00 pm

-

24 November 2021 @ 4:00 pm

Free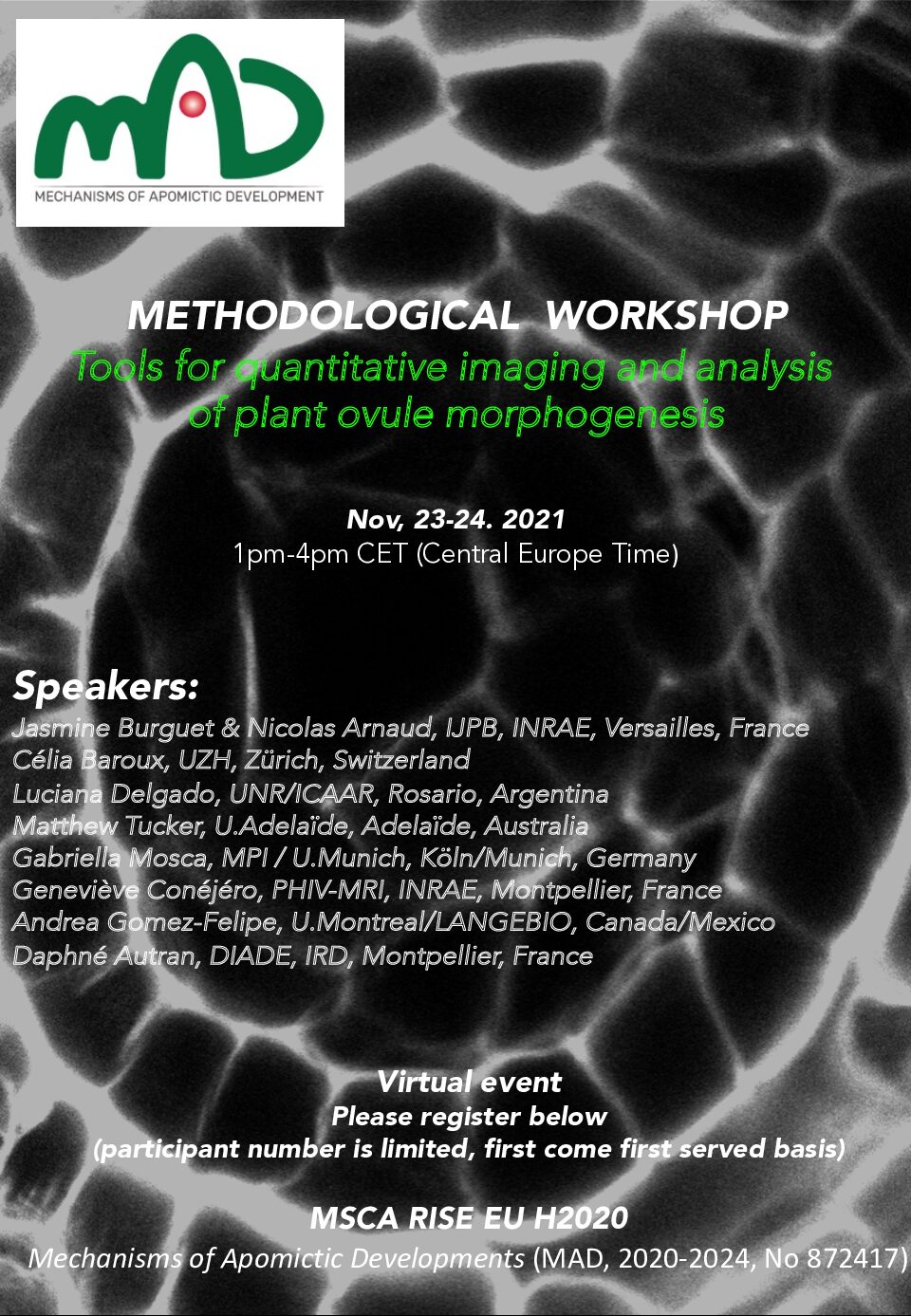 The aim of this methodological workshop is to present, in a practical way, existing tools and approaches, to image and quantify plant ovule morphogenesis, toward the functional understanding of their specificities in sexual and apomictic plants.
Day 1: 
Geneviève Conéjéro

(PHIV/MRI microscopy platform, INRAE/CIRAD, Montpellier, France)

:

Clearing methods for thick tissues fluorescence microscopy.

 

Jasmine Burguet/Nicolas Arnaud

(INRAE, IJPB, Versailles, France)

:

Spatial statistics approaches to trace developmental trajectories without live imaging. 

Gabriella Mosca

(Max Planck Institute/U.Munich, Köln/Munich, Germany)

:

Quantitative image analysis and ovule growth modeling using MorphographX and MorphoMechanX.
Day 2: 
Matthew Tucker

(U. Adelaïde, Australia)

:

Analysis of cell wall properties in plant ovules.

 

Célia Baroux

(UZH, Zürich, Switzerland)

: 

Quantitative image analysis, from nuclear to organ scale using IMARIS tools. 

Andrea Gonzalez-Felipe

(LANGEBIO/U.Montréal, Mexico/Canada)

and Daphné Autran

(IRD, Montpellier, France)

:

Live imaging approaches to study early carpel and ovule development.

 

Luciana Delgado

(UNR/ICAAR, Rosario, Argentina)

:

Defining ovule developmental calendar in apomictic Paspalum Rufum.